Malaysia Office
EU NIAN PRECISION TECHNOLOGY SDN BHD
14, Jalan Mutiara Emas 5/4,
Taman Mount Austin,
81100 Johor Bahru,
Johor, Malaysia.
+607-3538533
+607-3538933
+607-3539533
www.eunian.com
admin@eunian.com
Indonesia Office
PT EUNIAN MITRA
Duta Garden Square
Blok-A No.22,
Kelurahan Jurumudi Baru,
Kecamatan Benda,
Tangerang-Indonesia 15124.
+62-21-54370577
+62-21-54370577
www.eunian.com
eunian_mitra@eunian.com
Smart In-Line Dryer Veneer Moisture Content Control System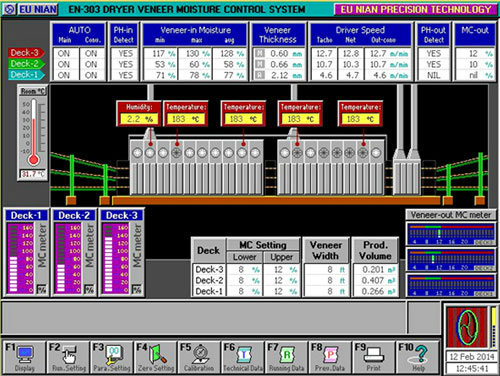 EN-303 Smart In-Line Dryer Veneer Moisture Content Control System

In plywood manufacturing environment, the most critical problem of a Continuous Dryer is its veneer Moisture Contents (MC) problem. The following collective data (from various Plywood Mills in Malaysia & Indonesia) shows the real facts of this problem:
Desired Veneer Moisture Contents: < 40%

Over-Drying Veneer: > 55%

Under-Drying Veneer: >5%
The real negative impacts on over-drying veneer are:
Low productivity due to slow drying rate.

Low recovery due to high veneer shrinkage.

High plywood reject ratio due to wavy veneer surface.

High glue consumption due to over-drying veneer surface.

EN-303 Smart In-Line Dryer Veneer Moisture Contents Control System has been designed to actively overcome these problems. It is a "Smart" & knowledge-base computer system that combines various sophisticated mathematical models to effectively, continuously & automatically control the speed of Net Dryer "In-Line" with the veneer drying process so as to bring an accurate desired output veneer Moisture Content, & conform to the pre-set MC range for different glue type!

The major contribution of EN-303 system are:
Obtain desired (pre-set) output veneer Moisture Content that prevents veneer from under-drying or over-drying.

Significant increase in productivity by optimising the dryer efficiency, reducing the rate of veneer re-drying and minimising the lost time due to the changing of veneer with large thickness difference.

Gain higher veneer quality/grade by obtaining a perfect drying results with no under-drying or over-drying.

Increase in veneer recovery by:
​ 1)
Maintaining desired output Moisture Content, & thus minimising veneer contraction. A smaller amount of
veneer contraction will bring higher output volume, & thus higher recovery.
2)
Preventing veneer from re-drying. Re-dried veneer normally needs to be composed, which faces first-cut &
end-cut lost. Besides, its veneer wavy problem causes veneer clipping lost at Auto-Clipper. This will definitely
decreases veneer recovery.
3)
Saves in glue application by ensuring veneer output Moisture Content falls within the desired range. In fact,
only over-drying veneer will absorb larger amount of glue!
Download:
EN-303 Brochure
EN-303 Smart In-Line Dryer Veneer Moisture Content Control System



System Photos
EN-303 Smart In-Line Dryer Veneer Moisture Content Control System
System Video