Malaysia Office
EU NIAN PRECISION TECHNOLOGY SDN BHD
14, Jalan Mutiara Emas 5/4,
Taman Mount Austin,
81100 Johor Bahru,
Johor, Malaysia.
+607-3538533
+607-3538933
+607-3539533
www.eunian.com
admin@eunian.com
Indonesia Office
PT EUNIAN MITRA
Duta Garden Square
Blok-A No.22,
Kelurahan Jurumudi Baru,
Kecamatan Benda,
Tangerang-Indonesia 15124.
+62-21-54370577
+62-21-54370577
www.eunian.com
eunian_mitra@eunian.com
Rotary Clipper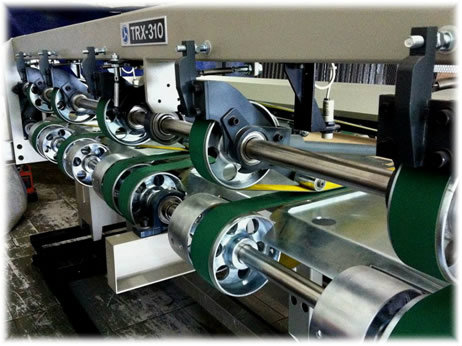 TRX-310 Rotary Clipper

TRX-310 Rotary Clipper is a veneer (green and dried veneer) clipping machine that incorporates high-end Micro-Processor Chips and HMI touch screen interface. It is specifically designed to solve the following problems of existing Air Clipper and Rotary Clipper machine:
Clipping length inaccuracy

Low clipping speed

Absence of clipping compensation at variable control speed

Inaccurate Knife Position detection and control

Absence or poor design of Manual Clipping feature

Inappropriate used of Anvil Roll material

Short life span of wear-and-tear parts
The outstanding contributions of TRX-310 Rotary Clipper are:
High clipping length accuracy even at high clipping speed. The in-house testing results show a clipping accuracy of ±2mm at 60m/min and ±3mm for clipping speed above 60m/min.

The clipping accuracy is always maintained regardless of the radiant of speed acceleration or deceleration.

Machine's Knife Position is recorded at all time and reset after every successful veneer clipping action.

Manual Clipping feature in well incorporated into the machine for the needs of clipping veneer knots, holes and unwanted void area.

Serious selection of Anvil Roll material for a better veneer clipping result and extend the life-span of other wear-and-tear parts of the machine.
Download:
TRX310 W5 Rotary Clipper Brochure
TRX310 W9 Rotary Clipper Brochure
TRX-310 Rotary Clipper



System Photos
TRX-310 Rotary Clipper
System Video